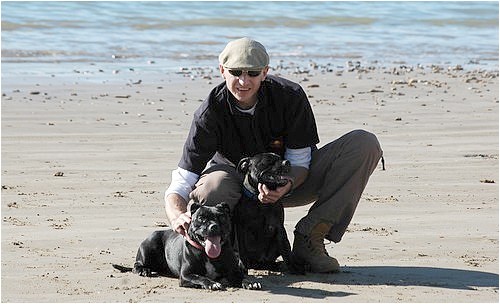 We had different dogs. I had German Shepard Leo and dogs taken from Alteri Foundation. My husband had Dobermann, Saint Bernard Dog and American Staffordshire Terrier. But he dreamed about Staffordshire Bull Terrier. When Leo died we started thinking about another dog and decided that "Staffordshire Bull Terrier, that's the dog for us". Great dog in a small body.
We started looking for breeders having good, brave and healthy dogs dogs. So, we got our first and lovely Human Dogs LINDA EVANGELISTA. I think we passed the exam and a year later we got Human Dogs SHAQUILLE O'NEIL. We would like to thank Mirek Janasz and Laura for the trust and fact we can count on them all the time.
Linda has occured a wonderful bitch. We decided she could give great puppies - puppies with chances at the show ring but brave and curious at the same time. And that's how the first litter was born and the firstborn with sweet beloved character, Alfa Tauri TRAVIS PASTRANA, stayed with us.
Staffie described in the Standard fulfils all our expectations. We also were lucky and found the kennel where the temperament, health and appearance go together and our dogs are perfect for us. They have very nice characters; they love people and are good with dogs. Our dogs have really good temperament and sense of smell. They are always happy and ready to play, intelligent, but what's the most important – healthy. We like dog shows, but our activity is bigger than show ring. That's why we learn a lot of tricks, a little obedience, and during our 6-months visit in Spain, we started agility, which is continued in Poland. We also love utility tracking. Our dogs are mostly the part of our family. So when we decided to become "breeders" we were sure that we have to all our best to improve the breed in Poland.
If you want to ask a question about our dogs, plans or just to talk - feel free and contact us.