HISTORY
Walk a Staffordshire Bull Terrier down the street and you are bound to be asked this question: "Is it a Pit Bull or Amstaff?"
Most Stafford owners are quick to answer no, and then take time to say the name of the breed over and over, slowly and carefully, to make sure there is no misunderstanding.
However, the complete and correct answer to this question would be not "no", but "not anymore". At one time the Staffordshire Bull Terrier was a so-called Pit Bull-a dog bred and conditioned to fight other dogs in an enclosure called a pit. In fact, the Staffordshire Bull Terrier was the original pit fighting dog, from which others have descended.
In England in the early 1800s an unspeakably inhumane spectator sport called bullbaiting was in vogue. The type of Bulldog (not to be confused with our modern Bulldog) most successful in fighting bull weighed between 80 and 100 pounds, had a powerful neck and shoulders, and tremendous courage and tenacity. Its lower jaw tended to protrude somewhat to allow the Bulldog to continue breathing without loosening its grip until the bull was pinned to the ground.
Then, in 1835, bullbaiting became illegal. This left promoters and partisans of the "blood sports" to come up with something to take place. The new spectacle was dog fighting. It was fashionable sport not only with the seamy section of the populace but patronised in no small measure by the aristocracy who would enjoy wagering the outcome of a match between two celebrated dogs in fight to the death. London had its notorious pit in Duck Lane, Westminster, and here a regulation pit was maintained. At first the Bulldogs were pitted against one another, but it soon became obvious to dog fighters that a smaller, more agile dog would be better suited for dog-to-dog combat. They crossed the Bulldog with one or more of the native English terriers in an attempt to create a type of dog that would combine the courage, strength and tenacity of the Bulldog with the agility and fire of the terrier. He was needed to fight and kill and never give way. The plan worked, and a consummate fighting dog was the result. The new breed went by many names: Bull and Terrier, Half and Half, Pit Dog, Pit Bullterier and-for the region where it originated – Staffordshire Bull Terrier. Stock which came from the union of the Bulldog and this Terrier would have varied in extreme cases at maturity between 20 and 60 lb. weight, averaging no doubt between 30 and 45 lb. This weight margin allowed a dog which was substantial, muscular and athletic. These attributes motivated with courage and tenacity produced fighting dogs for over 100 years and gave us Staffordshire Bull Terrier.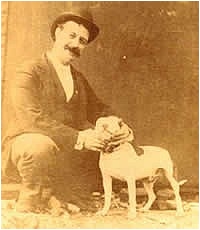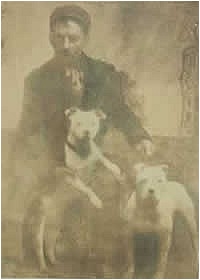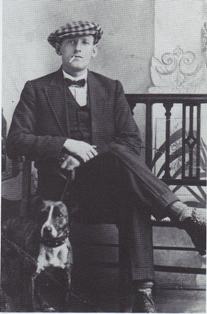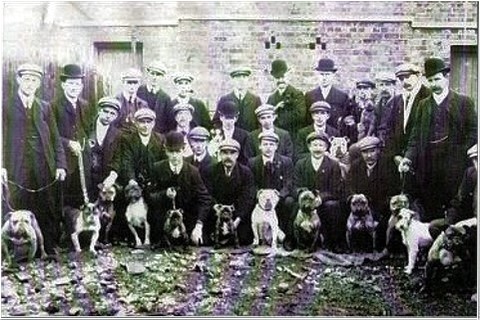 At least some owners of Staffordshire Bull Terriers were interested in this new venue for showing of their dogs. However, his existence through the nineteenth century had been obscure, and he had an evil reputation because of his fighting prowess. He was never considered as a show dog. It was not untill May 1935.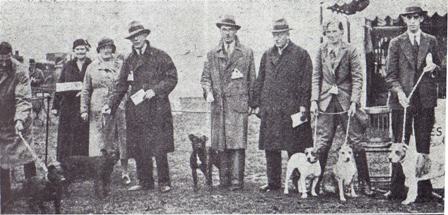 Those who owned the "other" Bull Terriers, 40 men, came together to form the first Staffordshire Bull Terrier Club at the Old Cross Guns Hotel in Cradley Heath. As it happens, his admirers these days have no quarrel with the name, for he was virtually evolved in the Black Country, the mining area of South Staffordshire and it is felt the dog has a proud and traditional title, which as a native breed suits him and which he deserves. The early officers of the club: Joe Mallen, Jack Bernard (president) and Joe Dun (secretary). These men knew and loved the outstanding splendid character of the breed and the qualities incorporated into an animal of outstanding merit.
During 1935, 174 Staffordshires were registered with the Kennel Club of England.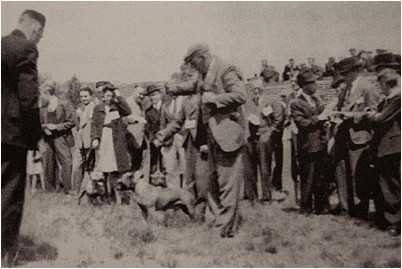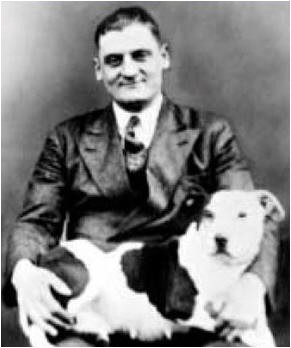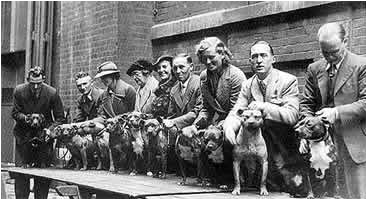 A standard was drawn up at this time, and by 1938, the fanciers of the breed celebrated the awarding of the first championship poinys at the Birmingham dog show.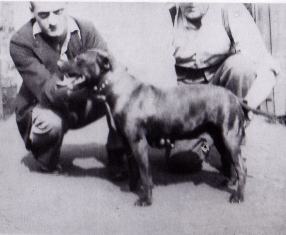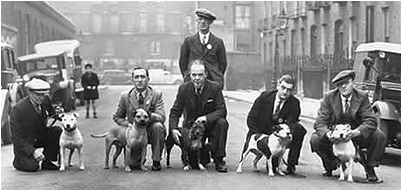 In 1939, 5 of the breed gained championship titles. They were: Game Laddie, bred and owned by W.A. Boylan; Gentleman Jim, bred by J. Dunn, owned by J. Mallen; Lady Eve, bred by J. Evans, owned by J. Dunn; Madcap Mischief, bred by W.A. Boylan, owned by A. Harrison; Midnight Gift, bred by G. Ashman, owned by M. Beare.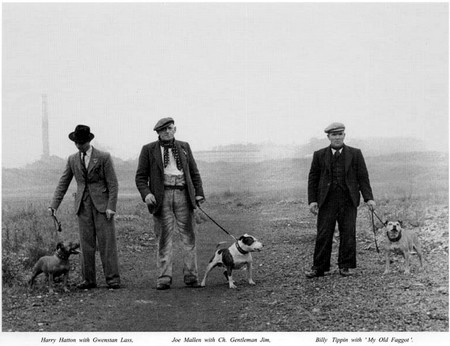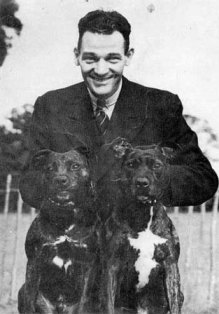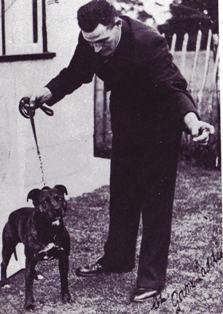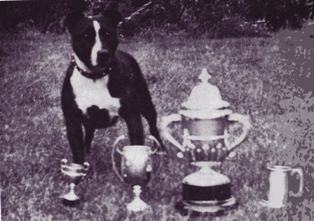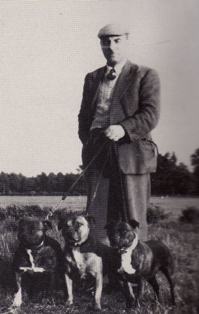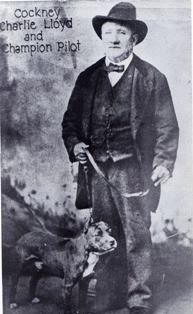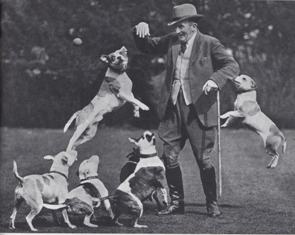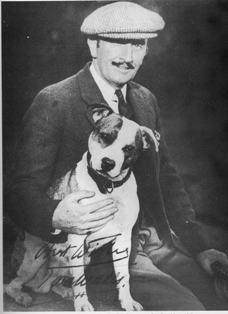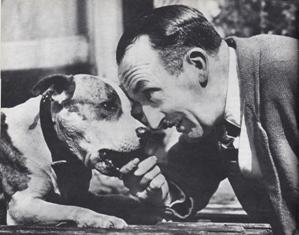 * * *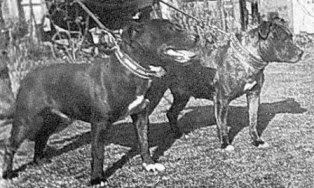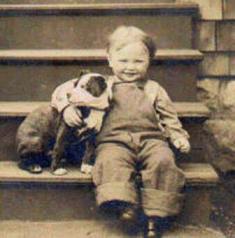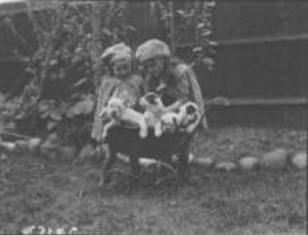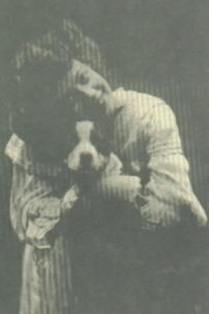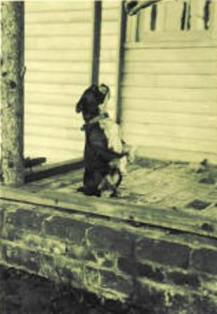 Literature:
1. Gilmour D., 1996, The Complete of Staffordshire Bull Terrier, Ringpress Books Ltd, Lydney,
2. Gordon J.F., 1982, The Staffordshire Bull Terrier, Foyles Handbooks, The Pitman Press, London,
3.Lane M., 2003, The Guide to Owning a Staffordshire Bull Terrier, T.F.H. Publications, Neptune City,
4. Lemke D., 2000, Staffordshire Bull Terrier, T.F.H. Publications, Neptune City,
5. Nicholas A.K., 1991, Staffordshire Bull Terrier, T.F.H. Publications, Neptune City,
6. Stone S., 2007, Celebrating Staffordshire Bull Terriers, Pynot Publishing